Affinity Photo and Affinity Designer are on sale again! If you buy right now, you can save 20% off the regular price, which is already an outstanding value. (No, I don't get any money for telling you this. I just think it's great software and I want to see them do well.)
The reason for the current sale is that they're celebrating the upcoming release of their new layout tool called Affinity Publisher. It's been in beta for many months, and it's been great to watch it improve with each iteration. It goes live in two days (6/19/2019). Fortunately, you can also pre-order it for 20% off, too.
Why I Switched to Affinity
I have been using Photoshop for a long time (I still have my version 5 install disk) and have been impressed with it as it continued to grow in features. When they switched to the subscription model, though, I wasn't too happy. I'd rather buy than rent my software. Also, while new features are great, Photoshop has become a bit bloated.
Affinity Photo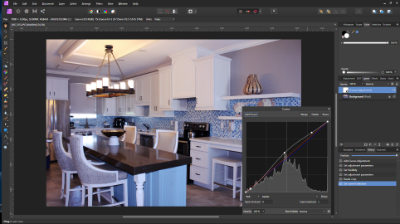 When I heard about Affinity Photo, I was curious. It seems to offer all the features of a photo editing software that you'd need, but at a fraction of the "rental" price of Adobe cloud.
The more I used Affinity Photo, the more I like it. It is a very intuitive program and I find it easy to do what I want to do. It doesn't have all the features of Photoshop, but I really don't find myself missing anything. It feels more streamlined than like there's anything lacking
But there are some things that it does better, in my opinion. For starters, everything is non-destructive. It's kind of like having everything as a smart object, but…effortlessly. Also, adjustments happen real-time, so you don't have to apply the changes/effects/etc. to see what it will look like. I also love that you can save the history when you exit the program, so even after re-opening, you can go back to any point in the history.
Affinity Designer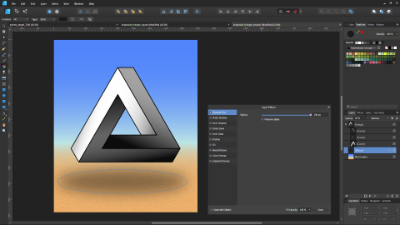 For vector graphics, Designer is an obvious alternative to Illustrator. Like Photo, it seems very intuitive, and I find that I can create with it very easily. It is a very capable vector editing program, and I use it for graphic design, and I even create 2D images in .stl files, which I later convert to gcode to run a CNC carving machine.
It also has some support for raster graphics via the "pixel persona", so there is less need to move between two programs. You can, of course, jump between Designer and Photo quite easily, as each one has more depth in its respective area, but the small amount of overlap really helps the workflow to be smoother.
If you look at the screen shots, you'll see that the user interface for the two is very similar. The tools are different, but the layout and "feel" of using these two programs that it is extremely easy to go back and forth between them.
Affinity Publisher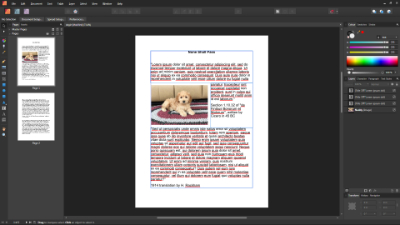 I haven't spent as much time with Publisher, but I'm looking forward to it. As you can also see in the screen print, the user interface is very familiar if you've used either Photo or Designer. The basic workflow seems as intuitive as either of the other two as well.
One thing I look forward to is using the "Photo Persona" and "Designer Persona" within Publisher. I am sure that being familiar with these two already will make using Publisher even more powerful.
Support
In the year-and-a-half that I've been using Photo and Designer, there have been a steady stream of patches and some minor but useful enhancements. It's nice that they are so dedicated to maintaining and improving their software. They really seem committed to their products.
Their forums are very active, and I find that on the rare occasion that I've had any issue with the software I was able to search the forum and find a remedy. It's great that there is such a great community around the software as well.
Summary
The Affinity programs perform great, and are of high value at regular price. Since they're now on sale, they're an ever bigger bargain.
If you're thinking about a tool that you can buy to do photo editing, vector graphics, or publishing/layout, these are extremely capable programs that are intuitive to use. If you're tired of paying month-after-month to "rent" your software, you can own these programs outright, any one of which is less than the monthly rental on some other software.
Links
Check out the product pages at the Affinity web site. These are NOT affiliate links, and I get nothing for sending you there. I just think they have great products and I want to share my recommendation with you.